By Bruce Lieberman
UNION-TRIBUNE STAFF WRITER May 25, 2005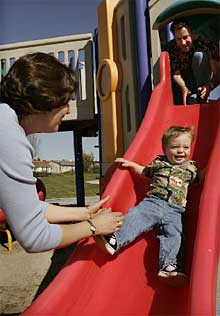 DAN TREVAN / Union-Tribune

Courtney and Tim Atlip played with Carter, who was born after the couple obtained donated embryos through a Fullerton-based adoption agency.


Courtney Atnip gave birth to her first child Sept. 15, 2003.

She and her husband, Tim, had tried for seven years to conceive. Then they considered traditional adoption before ultimately choosing an "embryo transfer."

With help from an adoption agency, the Atnips received 11 frozen embryos from a couple who donated them after having twins through in vitro fertilization.

Three of the embryos survived the thawing process, and a fertility doctor implanted them into Courtney's womb. She eventually gave birth to a boy, Carter.

The experience has taken the Atnips, who live in Temecula and have family and school ties to San Diego, to the heart of a controversy about the fate of unwanted embryos stored at fertility clinics worldwide.

Yesterday, Courtney and Carter joined President Bush at a White House news conference to oppose stem cell research and promote embryo adoption – the transfer of embryos from one couple to another to have a baby.

Supporters of such transfers say they help many couples have children while saving embryos from being destroyed for the sake of medical research. Many opponents of human embryonic stem cell research contend that scientists could instead rely on stem cells taken from adults and umbilical cord blood.

Biologists argue that only embryonic stem cells have the potential to develop into all types of tissues in the body, giving scientists a greater ability to study and treat diseases.

In addition, some ethicists note that embryo transfers also cause destruction because most of the embryos implanted in a woman don't survive gestation.

To publicize her side of the debate, Courtney Atnip has made two lobbying trips to Washington, D.C., since September. For her, telling others about Carter has strengthened her resolve against human embryonic stem cell research.



DAN TREVAN / Union-Tribune

Courtney and Tim Atnip held their son, Carter, in their Temecula home. The couple received 11 donated embryos from an East Coast couple.


"I think an embryo is a child, so it's hard for me to see someone . . . donate it to embryonic stem cell research," she said. "I look at (Carter) and I think every baby is a miracle. But this child – I mean, we saw him in a petri dish."

On a broader level, some theologians fear the phenomenon of embryo transfer could create a market for embryos, Catholic ethicist John Berkman wrote in a 2002 paper in the Scottish Journal of Theology.

Based on the premise that a human embryo is equal to a human life, Berkman's paper highlighted the moral thicket a woman faces when her doctor implants several embryos to increase the odds of having a successful pregnancy.

"If more embryos are implanted than the woman is able to carry to term . . . then such a choice is also incompatible with the dignity owed to the embryos," Berkman wrote.

Since 2002, the Bush administration has promoted embryo transfers through a grant program run by the Department of Health and Human Services. The transfers are supported by Focus on the Family and other conservative Christian groups.

A handful of couples in San Diego County have donated or received embryos for fertility purposes. Those contacted were reluctant to speak about their experiences. The Atnips, who have told their story on national TV, have no reservations.

"If there hadn't been articles written and people willing to talk about (embryo transfers), then we never would have heard about it," said Courtney Atnip, 33. "If we could help a genetic family who has embryos frozen . . . or help a family who's going through infertility and cure their infertility, then it's worth it."

About 400,000 embryos were stored at fertility clinics nationwide as of April 11, 2002, according to a survey by the Society for Assisted Reproductive Technology, based in Atlanta, and the research group RAND.

Supporters and opponents of human embryonic stem cell research often say that huge numbers of those embryos could be used for transfers or scientific work.

In reality, the survey showed, 2.8 percent of the 400,000 embryos were available for research, and that figure drops to four-tenths of one 1 percent after factoring in expected losses during thawing and lab work.

Likewise, 2.3 percent of the embryos were reserved for donation to other couples, the survey said. A range of variables, including thawing, also would reduce the percentage of viable embryos in this category.

Scientists regard fertility clinics as an important source of human embryos for stem cell research. In California, voters last fall approved spending $3 billion to pursue such work in the next decade.

"Prior to implantation, most scientists believe that the early zygote, which is what a fertilized egg is called, simply doesn't have the moral standing of a person, of a child, or even of a fetus," said Evan Snyder, a prominent stem cell researcher at The Burnham Institute in La Jolla.

About 1½ years ago, Burnham began accepting embryos that couples donate for research. Today, the institute stores more than 700 embryos, each available for use by stem cell scientists, Snyder said.

By contrast, at least three U.S. groups promote embryo transfers: Nightlight Christian Adoptions in Fullerton, Embryos Alive in Cincinnati and the National Embryo Donation Center in Knoxville, Tenn. The Atnips were referred to Nightlight.

These agencies say it is difficult to pin down how many children have been born through embryo transfers because no national statistics are available.

Couples who donate embryos usually do so after they have had one or more children through in vitro fertilization.

The Atnips, who first considered traditional adoptions and egg donation, discovered embryo transfers through a brochure at the couple's fertility clinic in Loma Linda. Then Courtney Atnip's mother gave her an article about it, and Tim Atnip's aunt mentioned it again after hearing a radio program. At that point, the couple called Nightlight.

"We just felt very comfortable with it, that this was where we were supposed to be," said Tim Atnip, 38.

Embryo transfers are generally handled as adoptions. The arrangement can cost recipient couples $3,000 to $6,000, far less than conventional in vitro fertilization services and traditional adoption.

The idea of adopting embryos originated in 1996, when a law in Britain resulted in the destruction of more than 3,000 frozen embryos stored at fertility clinics in that country.

In Italy, Roman Catholic priests equated the British action with mass murder. In the United States, conservative Christian groups feared a precedent.

"With the prevalence of (in vitro fertilization) in the United States, it wasn't too far beyond the realm of rational thought that it could happen here, as well," said Lori Maze, program director for Nightlight's Snowflakes embryo adoption program.

By summer 2001, President Bush eliminated federal funding for new research that required destroying human embryos. A year later, the White House began to promote the idea of embryo adoption.

Since 2002, the Department of Health and Human Services has administered an annual $1 million grant program to publicize embryo transfers. Nightlight has been a major recipient of that money.

An important impetus for the embryo adoption program came in July 2001 during congressional hearings on human embryonic stem cell research. JoAnn L. Davidson, then director for the Snowflakes program at Nightlight, testified that as of 1999, fertility clinics nationwide were storing as many as "150,000 frozen live humans with 19,000 added each year."

Others doubted the accuracy of her figures. The uncertainty led to the 2002 survey by RAND and the Society for Assisted Reproductive Technology.

Of 430 clinics polled nationwide, 340 responded. The tally: 396,526 embryos frozen in storage coast to coast.

Eleven embryos were shipped from an East Coast fertility clinic to Loma Linda University Medical Center in November 2002. One would become Carter Atnip.

Carter was born 2½ weeks early – premature but healthy.

Today, on a counter in the Atnip's kitchen sits a framed photograph of Carter's biological brother and sister, 7-year-old twins of the couple who donated their extra embryos to the Atnips.

"We just figured that's kind of our way to keep them in the family," said Courtney Atnip, pointing to the picture. "We never want (Carter) to feel like he can't talk about it with us."

The couples have agreed that all three children will eventually learn about their connection.

Carter is a vivacious toddler with straight brown hair, a pale complexion and a full mouth of baby teeth. A family friend calls the boy "frosty."

The Atnips are clearly aware that their son's story is unusual.

"I think we have the same worries that any adoptive family would have," Courtney Atnip said. "We're trying to be open and not have adoption be such a big secret or mystery in our household."

Carter may even be able to use the story to his advantage, Tim Atnip said.

"It can be a cool story at show and tell," he said.
---
Bruce Lieberman: (619) 293-2836; bruce.lieberman@uniontrib.com